Automatic handling rules
To make your work with the service even more efficient, use automatic handling rules for automatic handling of requests.
Automation rules will be useful when holding contests in comments, ignoring certain types of content, for example, mentions from spammers, will help simplify the work of operators when handling requests, etc.
Please note that automatic handling rules are only available to users on the Team and Business billing plans.
Currently, automation rules allow you to
tag content
close requests that do not require a reply
add emotional coloring to messages and comments
delete comments for channels/group chats in Telegram
You can create an automation rule inSettings - Automation rules. And in the Comments section you can create an automation rule from the window of handling a request: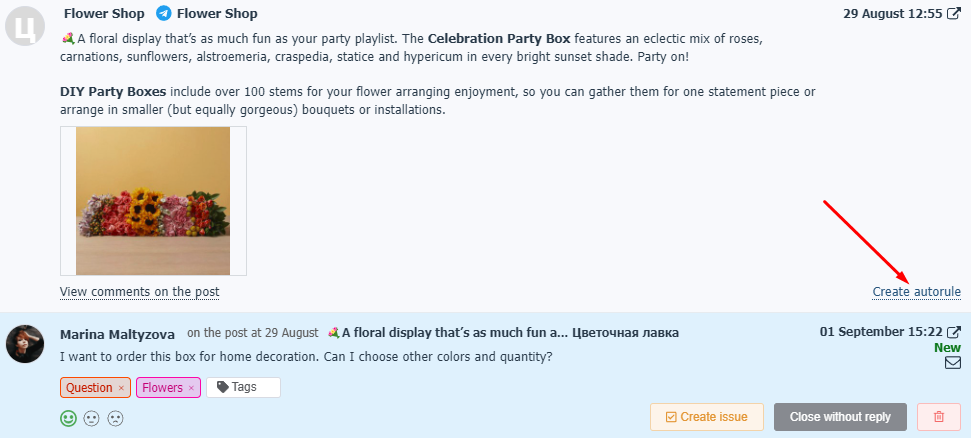 This will take you to the automation rules creation page with preset filters for request type, social profile, and post.
This will save time, for example, if you need to protag posts in a discussion in a Vkontakte group, or there is an active discussion under some post that does not require your participation.
To create an automation rule in the standard way, go toSettings - Automation rulesand click "+New Rule".
Let's look at the rule creation page in more detail.
First, you need to select the type of content for which the rule will be triggered:

Select the social profiles to use the rule and, if applicable, specific publications (if you are creating a rule to handle comments):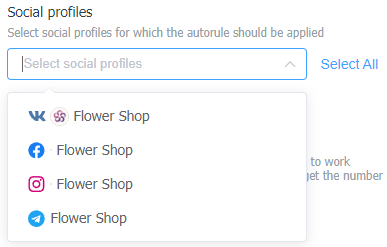 Post selection will be relevant when running contests in comments when no response from the page is required, or when tagging messages in discussions.
For convenience, you can specify the date of post creation in the post selection window to see only posts/discussions created on that day. This is relevant if you need to find an old discussion or publication.

When creating an automation rule for external mentions from theSocial listeningsection, select the source site for which the rule will be applied.
The condition under which this rule will apply.
You can use text length of the request:

To indicate the content of a particular word, part or phrase in a text:
Or mark those triggers in the request, at presence of which the rule will be triggered:

Please note that if only Instagram social profile is selected, this section will show "react to Instagram stories". This way you can close short replies to Stories or those with only emojis.
Also the service has the possibility to filter the content for which the fulfillment of the rule is not required.
For example, if the rule closes an unanswered message with the word "thank you", but should not work if the customer asks another question in the same message.

If necessary, you can set a date and time after which the rule will automatically stop working.

After specifying all the necessary conditions, select the action that the system will perform with the requests that meet these conditions. This can be:
closing an activity without a response,
assigning a specific tagthat has already been created in advance,
or marking an sentiment with "Negative"/"Positive"/"Neutral" provided thatthe Sentiments feature has been previously enabled in the social profile.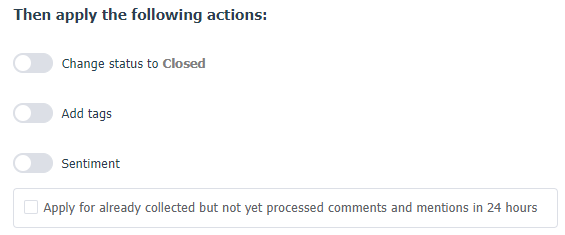 ifcomments are selected as the content type, a Telegram social profile is specified, and a condition is set in the Text block, automation rules allow you to delete comments that meet the condition. Please note that it will be impossible to restore such comments, so be careful to set the condition to trigger this automation rule.

Once configured, click on the "Save" button. The rule will run automatically.
The created rule will appear in the list on theSettings - Automation rulespage, from where it can be paused, edited or deleted.
For each automation rule in the list, we specify the date and time it was created and modified if it was edited. If necessary, this will help you quickly find entries in theAction Log.
Take a look at the main automation rule usage scenarios: