Contests
Automation rules will come in useful for your social media contest. There are many contest mechanics, and one of the most popular is the contest in the comments.
For example, you decided to hold a contest "The bouquet for a comment" - social network users need to write a comment with the bouquet price under the contest post to become a participant. These comments don't usually require a response from the page, but they will go to Angry.Space.
To prevent contest comments from interfering with the processing of other user requests, you can create such an automation rule.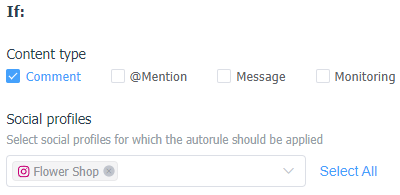 Choose "Comments" and the social profile where the contest is being held. If one social profile is selected, a "Select the posts" button will appear.
Click on it and choose a contest post from the list. The rule will only apply to comments on it.

In possible actions, please, select both toggles - "change status to Closed" and put a "Contest" tag. Tagging will be necessary for summarizing and selecting a winner. Click "Save."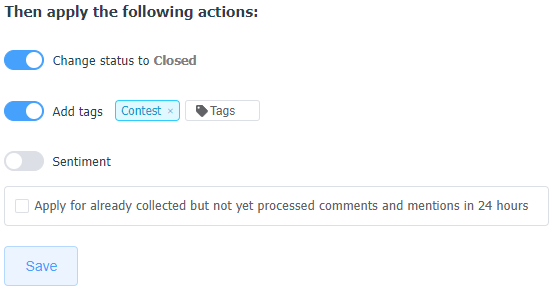 Done, after that, all comments on the contest post will stay out of the comments feed and you can easily summarize the results after the contest is over.

You need to go to the Comments section, select "Сlosed" status in the filter, and select the "Contest" tag. Once the filter has been applied, click on the "Export CSV" button on the top right.
So you can open all contest comments in Excel to select the winning comment or count the number of unique entrants.