Instagram Social profile connection
You can connect Instagrambusiness accountandcreator accountto social listening.
Connected profile should be linked to a public Facebook page and also you must be an admin of the page. You can learn more about social profile connectingin the Instagram Help Center.
In order to connect your Instagram profile, go toSettings - Social Profiles, then click onAdd social profilebutton with the requiredcompany.
Select connection of the Instagram social profile.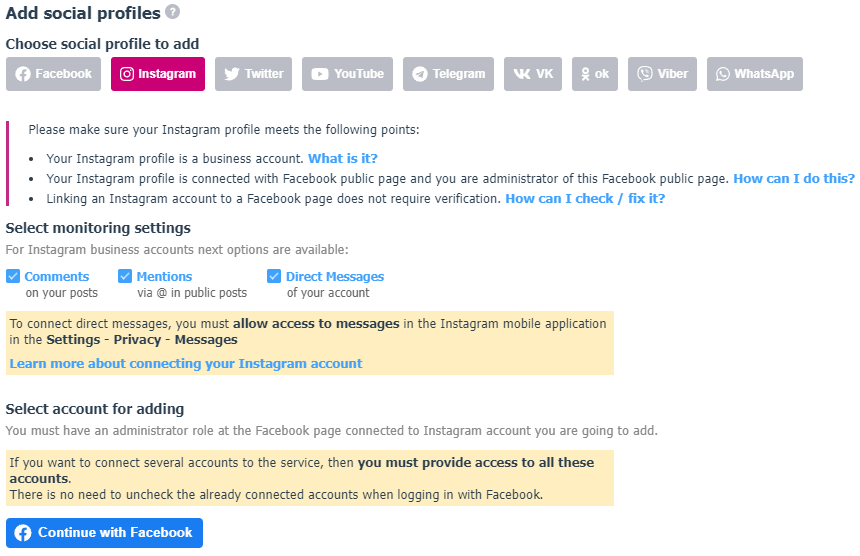 Please select the activities which the service will listen.
Instagram Direct messages
Our service was verified for compliance as an official Messenger API for Instagram.
It is only available for Instagram Business accounts so far.
In order to connect Direct to the service,you would also have to allow messageaccess for tools which were connected.
This can be done in the Instagram mobile app in Settings and privacy -> Messages and story replies -> Message controls: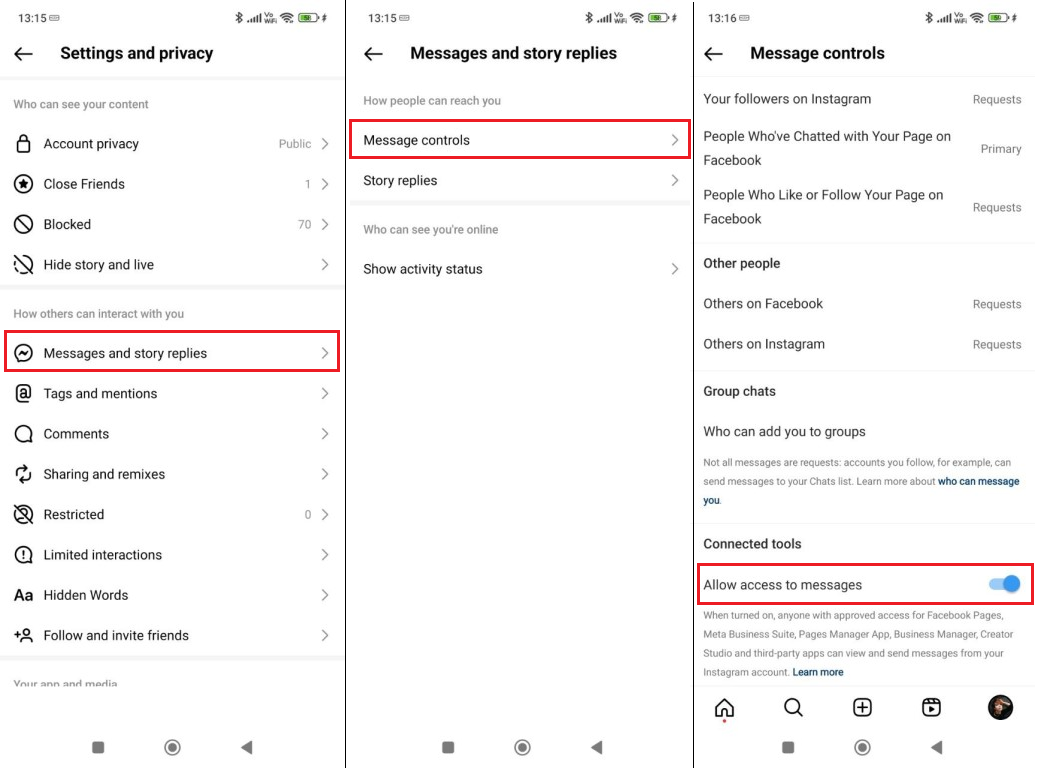 In case you don't see such checkbox in the settings, open the Facebook page that this Business Profile is linked to.
Then switch to Inbox and connect your Instagram Direct there.
After that actions please check that the corresponding checkbox will show up in the settings.
Click on the "Continue with Facebook" button, select the Instagram professional account to connect, select the Facebook page associated with this account, and allow the app to access all the requested permissions.
Please note that in case you want to connect several Instagram social profiles for social listening, then the access rights must be granted for all social profiles to be linked. And you don't have to uncheck the checkboxes for the rights granted for the Angry.Space app in social profiles connected previously.

At the next step please select your Instagram professional account from the drop-down list. If you can't see the profile in the list then maybe one of the initial conditions is not met. You can find more info about possible problems with connecting your Instagram social profile by clickingthe link.
Then check all configured parameters and press "Add social profile" button.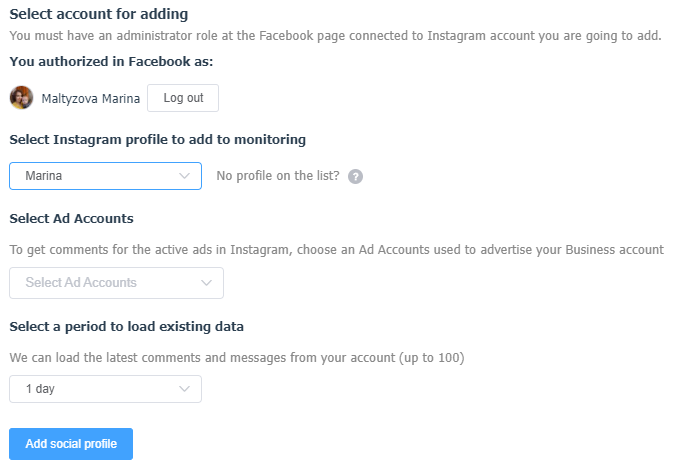 Done! Social profile is now connected and new comments and mentions will be sent to Angry.Space.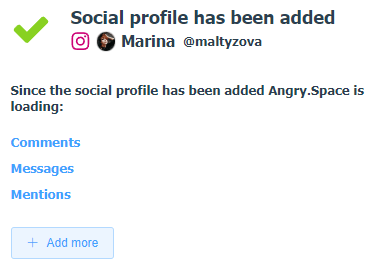 Are comments being collected in promotional posts on Instagram?
Yes, however the Facebook user whose social profile was connected to the servicemust have access to the Ads Accounts where the ads will run.When you connect your Instagram social profile to the service for the first time, if you have access to the necessary ad social profiles, you will be able to specify from which Ads Accounts you will need to collect ad comments.
If you have not specified ads accounts for collection when connecting, but you need comments under advertising posts to be collected, and you have access to ads accounts, then write to us in any convenient way:VKontakte,Facebook,Telegram @angryspacebotorinfo@angry.spaceand we will customize comments collection for advertising records.
Please keep in mind that Instagram API does not support Dynamic Creative Ads. It is not possible technically to collect comments under such ads.
If there are any restrictions?
Some comments in Reels can get into the service with a delay of up to 30 minutes.
Comments under promotional posts may be collected with a delay of up to 15 minutes.
Also the Direct messages which have attachments that are not supported in API usually get into the service with a delay of up to 20 minutes. This limitation is imposed by Instagram.