Problem connecting an Instagram social profile
Please check whether all the requirements for connecting an Instagram social profile are met.
To check which Facebook page your Instagram social profile is linked to, open the official Instagram app on your smartphone, then open your social profile, tap Edit profile and see what is specified for the Page item under Public business information: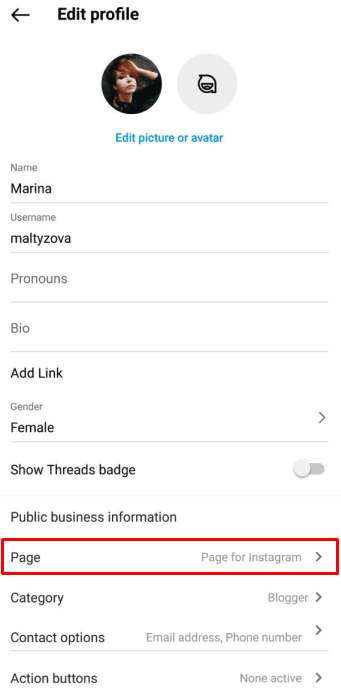 If the profile is linked to a page you don't have access to, you won't be able to connect the social profile to the service. First, you need to link your Instagram social profile to a Facebook page you are the admin of.
If your profile is connected to Business Manager, only a Facebook user with admin rights in this Business Manager can change the binding in a Facebook page.
If all conditions are met, but your Instagram social profileis still not listed as available for connection, check the access rights granted to our Angry.Space app inthe Facebook Integration Business section.
Find there our Angry.Space app, click view and edit, and grant access rights to the required Instagram social profile. Notice there are several checkboxes.
More details are in theinstruction manual.
If you've tried everything, but the Instagram business profile you want is still not listed, the problem may be on Facebook's side. Please clickherefor a detailed problem explanation.
To bypass the problem, Facebook representatives recommend the following solution:
Reset your business profile back to a personal social profile via the Instagram mobile app. All profile statistics on audience interaction may be lost: reach, likes, saves, etc.
Go to your Facebook page settings to the Instagram tab. You need to click on the "Disconnect" button at the bottom of the page.
Then on the same tab, click on the "Log in" button and link your Instagram social profile again.
After these steps, your Instagram social profile should appear in the list of possible connections in Angry.Space.