How to customize sending notifications in Telegram?
To receive new comments, messages, or tasks notifications in Telegram, you must do the following steps:
Create a Telegram bot (or use an already created bot) and connect it to Angry.Space
Configure a social profile to which the bot will send notifications
Enable notifications and make personalized settings
Configure a bot that will send notifications
Go toSettings-Notifications. Click the "Set up" button on the right side of Telegram to start linking the bot to Angry.Space.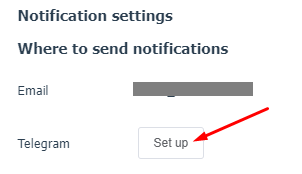 If you don't create a bot yet, open Telegram, search for the@BotFatherbot and start a dialogue with it.
To create a new bot, send the command /newbot.
To find out the token of an existing bot, use the /mybots command and select the corresponding bot.
Copy your bot token and paste it into the field in the dialog box in Angry.Space and click the "Save" button.

If the token is copied correctly, your Telegram bot will bind to Angry.Space and the window will close.
Configuring your social profile to receive notifications
Click the "Set up" button.
You can configure notifications to your personal social profile or group chat.
Tap the desired button and open the link in the Telegram app.
If the links do not open, try to open them from your mobile phone with installed Telegram.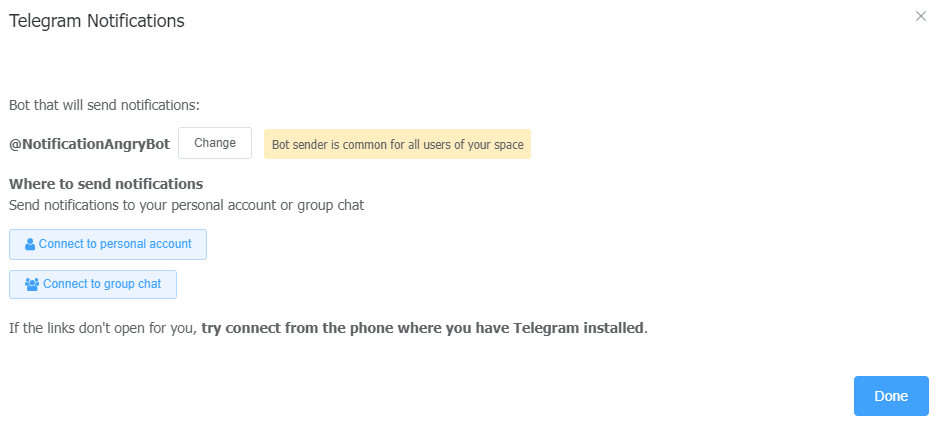 If the social profile/group selection links for notifications do not open from either your desktop computer or mobile phone, you can configure notifications manually.
In case you need to configure apersonal social profilefor notifications, write to the sending bot your email from the Telegram social profile to which you want to receive notifications. After that, click the Done button.
In case you need to configurenotifications to a group chat, first add the sender bot to the required chat, and then write the command /start@BotName your_email in the chat (detailed instructions will be available in the connection window of the service). After that, click the Done button.
Notifications settings
You can select which notifications you want to receive on Telegram - new posts and/or comments and mentions. If you have multiple companies created, you can also set which ones you want to receive notifications for.

If you click on the gear next to an enabled notification, you will go to the advanced settings window.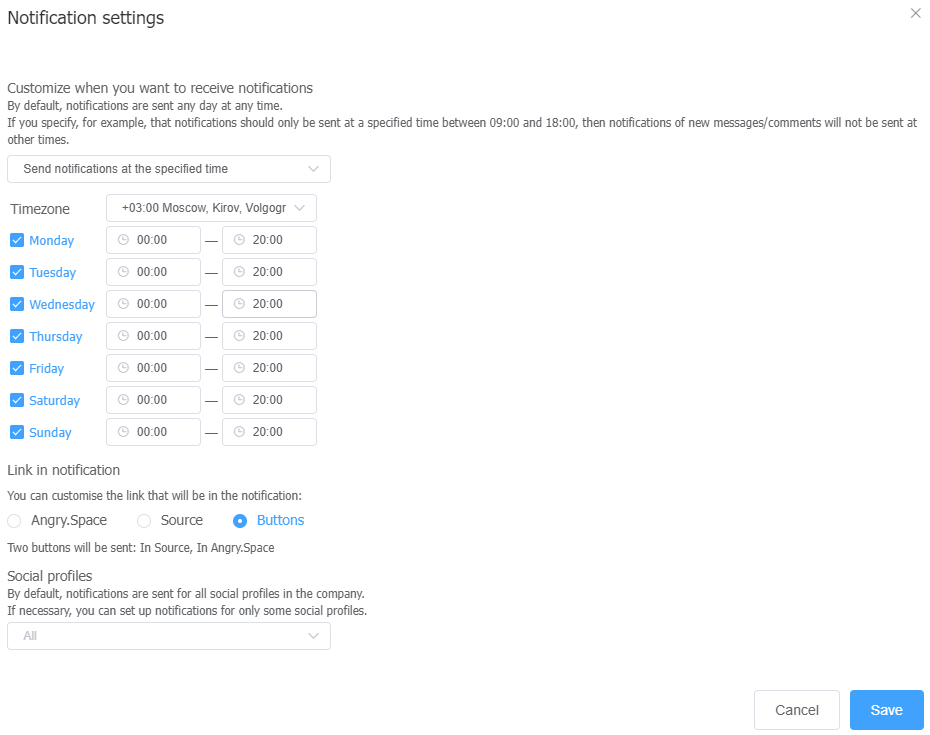 Here you can configure a convenient time to receive notifications, such as turning off notifications at night and on weekends.
Customize the links that will be sent in the notification - request to Angry.Space, request to social networks or buttons, clicking on which you can go both to the service and to the source itself.
And also select specific social profile you want to receive notifications for.

For comment notifications, the additional settings are similar, and additionally you can enable notifications for @mentions only.